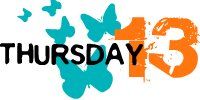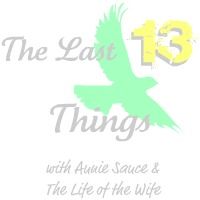 I will totally admit I was a creep on
aunie SAUCE
and
The Life of the Wife
yesterday, loved them, and decided to join the Thursday 13 series. This week it's the "Last 13" ...enjoy!
1. Last thing I ate: Chobani, duh. One for breakfast every morning and it's always raspberry.
2. Last movie I watched: The Rum Diary (not diaries, which I originally thought) and although I only half paid attention/half ogled at Johnny Depp, I loved it.
3. Last thing I thought out loud: "At least it's Thursday..."


4. Last text message:
Lord help us.
5. Last alcoholic beverage:
Coors Light (that's a given)
6. Last book I read:
The last book in the Hunger Games series. I've not allowed myself to pick up a new book since I took 2.5 weeks off from life to read that series.
7. The last song I listened to:
Download this song if you know what's good for you.
8. The last time I cut my hair:
Monday...still don't have a picture. I will soon, promise!
9. The last time I went on vacation
: Almost two years ago when I went to Cancun. I seem to go away every two years, so it's about time I start planning my next trip. Nashville 2012, anyone?
Sam and I in Cancun at Margaritaville. The balloon flower was from our waiter who I not so nicely told to get the fugg off me when he attempted to pull me on stage to dance. I don't dance and I don't like to be touched. He felt bad.
10. Last concert I went to:
Coldplay, summer of 2010. Hands down the best concert I've never gone to. I'm bummed they aren't coming back on their Mylo Xyloto. Buuu-ummmed.
11. Last tweet:
Follow me (@alissaerin) for free entertainment.
12. Last time I ugly cried:
When I watched 50/50 a few weeks ago. Not a good movie to watch (by myself!) when I thought that was going to be me. Turns out I do NOT have a brain tumor, but spent about a month thinking there was a strong possibility that's what was causing my eye problems.
13. Last single item that I purchased over $100:
Eye drops. Not some fancy piece of furniture for my new house, not new shoes...nope, eye drops. That (in my opinion) haven't done jack shit for my eye.
{Linking up with
aunie SAUCE
and
The Life of the Wife
}