Linking up with Aunie Sauce for the Thursday 13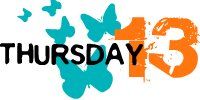 13 ways you spend your time


1. Watching Bravo.
Oh, how I missed it when I didn't have cable hooked up in the new house. I was all, "I'll spend my time sans cable doing something productive!" Um nope, didn't happen.


2. Drinking beer.

Yum. Draft beer. Yum. I can't get enough of you.


3. Reading.
I spend TOO much of my time reading whenever I find a great book. I'm kind of in a rut now, so you if you have any suggestions (Yes, I've read the Hunger Games and The Help) please leave a comment with the title and author. I suggest you read The Glass Castle.
4. Scheming.
My favorite saying is, "I'm either up to no good, or I'm sleeping." I love having a laugh at other people's expense, but plotting ways to wreak havoc in people's lives takes time!
5. Texting.
I honestly don't know how I communicated before text messages. I absolutely hate to talk on the phone. I think I spent entirely too much time on the phone in 5th grade, plotting revenge on a kid who dumped me. (see: scheming at its finest)
6. Driving.
Round trip to and from work, is about 1.5 hours, traffic depending.
7. Cleaning.
So the hardwood floor that I fell in love with? SUCH A BITCH to keep clean! I would be a liar if I said I haven't cleaned it almost every day since I've been in the house.


8. Searching for a new job.
I really need a new job.


9. Decorating the house.
Or not so much. Hopefully this weekend I'll have time to concentrate on organizing and decorating.


10. Missing my nephew.
When I still lived home, I saw him every morning. I haven't seen him in over a week because I've been sick. I mean, who wouldn't miss that face?
What a cute little nugget, right?
11. Thinking about what I would name a dog if I got one.
I know, I'm not like planning how to end world hunger or anything, but coming up with the perfect name for the dog I'm probably not going to get for a while is serious business.


12. Thinking about spring.
I can't wait till warmer weather, especially since winter finally decided to show up in these parts.
13. Most of all, I've been wondering.
I hate to wonder. It's driving me crazy.